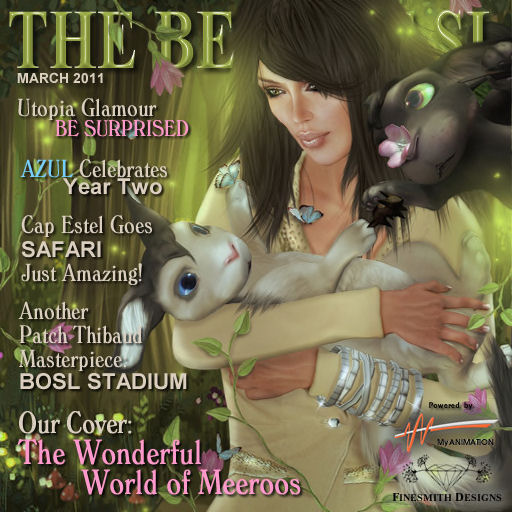 It was a distinct pleasure of ours to have been asked by the lovely people at Best Of Second Life Magazine to feature the Meeroos on their March 2011 cover. The staff, including Mr. Frolic Mills, were genuinely thoughtful and considerate. We're grateful to have been extended the invitation to participate... (more)
The location where the Meeroos were photographed was left in tact, so we thought it would be nice to allow our friends in the Wonderful World Of Meeroos group to have a peek! You can too, if you like! They're found here:
http://slurl.com/secondlife/Twas/93/71/131
I know it looks like those little guys are simply striking a pose for you pleasure, but there is a significance to them, so look closely!
You can pick up your own copy of the March issue of Best of Second Life at the store where we've placed a Kiosk for your convenience. You can find that here:
http://slurl.com/secondlife/Twas/93/71/131
I'd like to extend a thanks to all of you for your kindness, your feedback and your patience, and I'd like to encourage you to participate in the forums and continue to tell us what you think as we embark on this adventure. Do not hesitate providing us constructive critical feedback. It is vital that we hear what you genuinely think, or what you really want from your Meeroo experience, not just what you think we want to hear! It will make us better in the long run.
One of the (many) hats I wear on this tidy little crew is the one of messenger. I want to keep our lines of communication open. We appreciate your honesty. If you are more comfortable sharing your feedback privately, I understand that also, and my virtual inbox is always open to you! Notecards are my preference, of course, as I receive tremendous sums of instant messages, and I don't want to miss anything.
One thing I'd like to do at this point is ask you, the Meeroos community, what language, aside from English, you would like to have us provide you documentation in. We want to make the Meeroos experience as accessible as possible. If you have friends that you believe intend to participate, but are inhibited due to the dominating language being English, please let me know. If you're a participant in the upcoming closed Beta and English is not your first language, how can we better serve you?
Thanks for your help guys! I wish you all a great week!
-Catherine