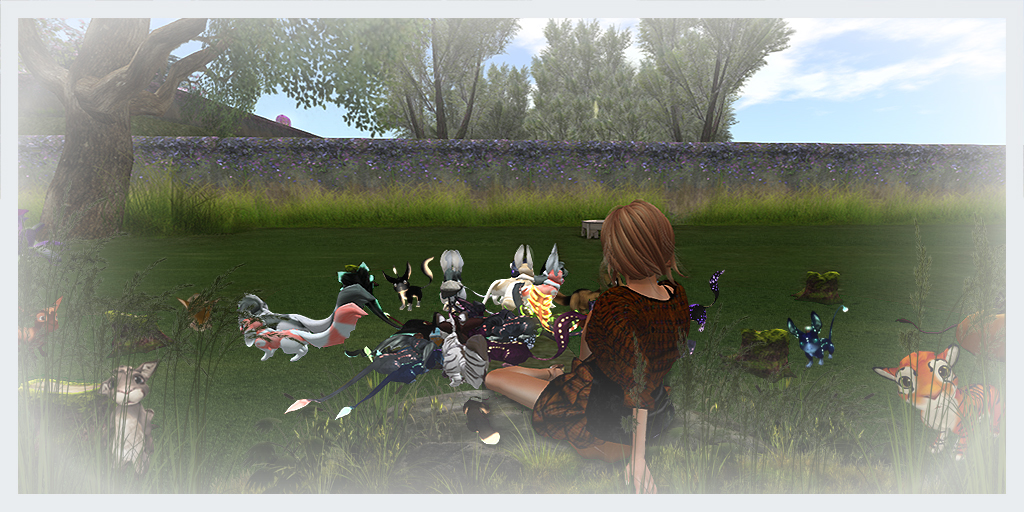 So as I was up late walking the prim streets in sl last night, searching for that perfect Meeroo or nest so I could display the new Autumn paint sets. And much to my own surprise it wasn't an easy task. Luckily for me, I ran into a few fellow Meeroos community members that were willing to help poor Moxie out. I showed them the images from the paint set boxes and explained what I was looking for. Then I showed the nest I bought and well ………... turns out I bought short ears and really needed tiger ears. Rather then laugh at me, Chantilly Lace and Susan Mullery found deep sympathy for me and helped me find the perfect nest. On my adventures I picked up a few nests for the winter paint sets. After I was finished I tossed my shopping bags over my shoulder and headed back to my studio.
I got back to the studio, carefully placed homes down and nests next to each, and in excitement I birthed 12 new baby Meeroos. ( Proud Mama ) As each jumped up at me I was torn as hearts emitted everywhere and I couldn't pick them all up. While I was going about proudly making these cute little new babies my very own Meepets this little cute Roo crawls up behind me and smiles and blinks at me. I had to take a step back. The Roo blinked, I blinked and we both gave a chuckle out loud, but I could clearly see now something was off with the coat. The Roo just had a strange look about them. As I leaned down to eye level, I noticed something very Odd. …. I see it now. After the Roo realized I wasn't going to pick them up, she stood up yawned at me and quickly curled up at my feet and fell asleep. Although a bit fidgety, It was at this time I could really study what was so different about this cute little Meeroo. But then all of a sudden the Meeroo got up fast and ran off. I tried to run after them but there was no catching up. I didn't even get her name ……..
Can anyone in the community help me out? I want to help this poor little Meeroo from looking so Odd. They seemed to be a bit older species. You all know me …… I just can not keep up with all these coats and species names. I must find the name of this little Meeroo, so I can use my magic paintbrush on them and change this Odd painted body part, that for sure didn't match the coat.
- Please Send Moxie a Notecard. Please add the following inside - Your Name, the Name of the coat of the Meeroo, the body part that is the wrong texture and a full perm picture of the Meeroo. You will be Rewarded Greatly with a Fallow Nest ( If you already are receiving a Fallow nest from auctions you do not qualify for this contest. This allows others to get a nest … Thank You )First two to turn in correct notecard will win. It is a Current Live Roo.