Now that the dust has settled, I finally got a chance to meet up with Jeff Kremer at Big Cat Rescue and deliver him a nice donation to help out all the amazing animals!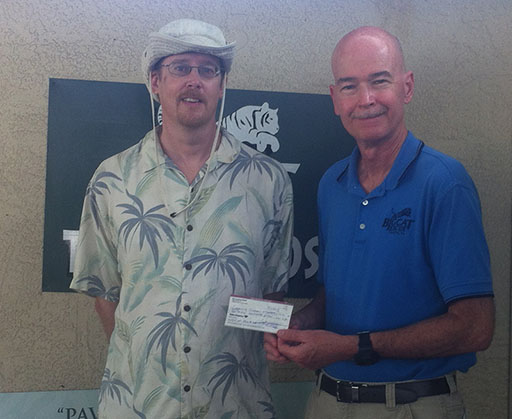 ps. I'm the one on the left :-D
Here was the final rundown of all the numbers. Between the vendors and donation boxes, we raised 282351L which at current exchange rate on the lindex is L$248 / US$1.00 gave us a total of US$ 1138.51, but we weren't done there! We decided that Meeroos as a company would roughly match everyone's efforts and raise that to US $2000. Moxie and I both then each personally donated $250 on top of that for $2500.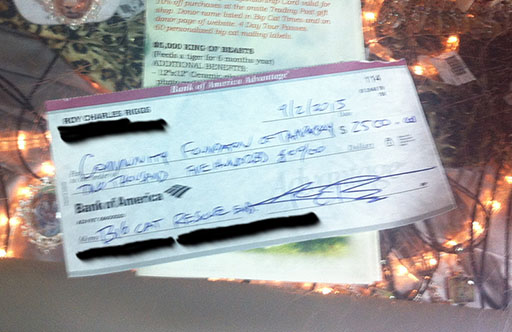 Now even better than this.. there is a local Tampa community foundation that is sponsoring a 33% donation matching program. So you'll see Jeff had me make out the donation to BCR through them to take advantage of this. I was wary at first about writing the check to something other than BCR, but Jeff assured me this was the best way to help the animals. So with this organization kicking in 33% on top of our $2500, this brings our grand total to a ROARING $3225.00 !!!!
You can click here to see where BCR announced it on their Facebook timeline.
Now.. on to some fun stuff!! For a donation of this size, Jeff said we would get a few perks, like a plaque that will be put up in front of Amazing Grace's cage, a stone tile they will put in the floor somewhere, these should say WWoM and/or have our logo on them. Jeff is getting me the details on how much room we have to work with. AND what could be the best of all, an exclusive private tour for up to 10 people. So here's the deal, if any of you live close enough nearby, or heck want to fly here for a BCR outing, just let someone on the team know, and then we'll try to schedule a RL adventure!
WOW!!! THANK YOU ALL FOR ALL YOUR SUPPORT ON THIS FUNDRAISER!!!!!
-Tiger