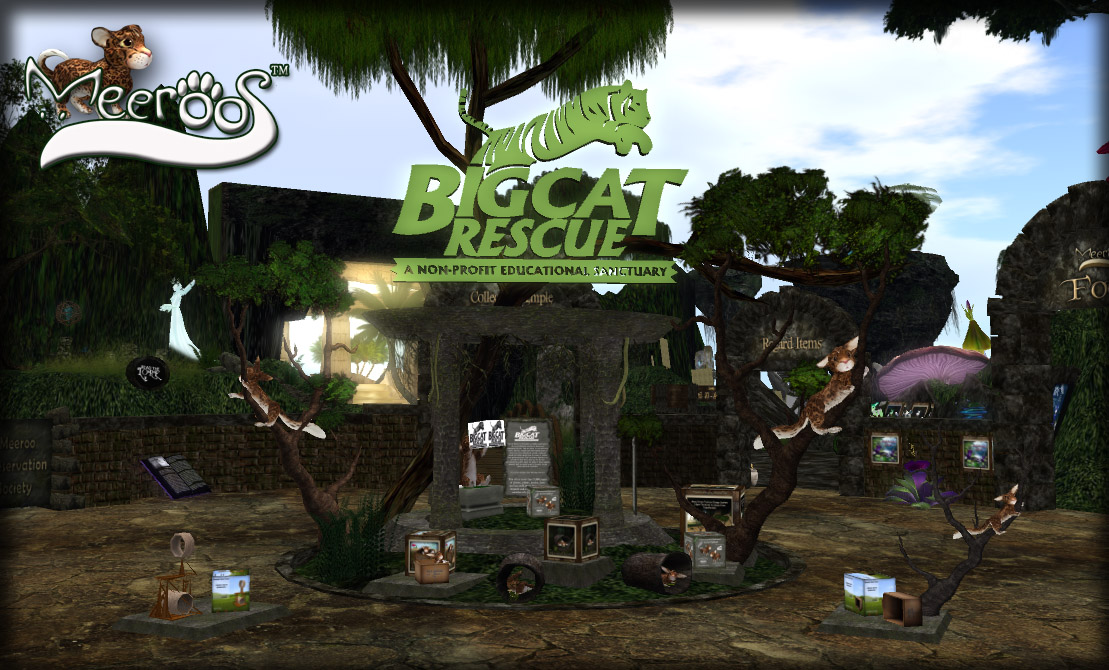 It's probably no secret that we here at Meeroos are big animal fans. You kind of have to be to work with these amazing little creatures day in and day out and still be passionate about sharing them with the rest of the world! Everything from our personal RL pets ( Parrots to Horses to Kittens and more), to the majestic animals of the world. In honor of this, we've worked up a special event to share with mew.. err.. you! *coughs*
Meeroos is supporting Big Cat Rescue to give back to an organization that gives better lives to animals.
The BRC is an organization in Tampa, FL, USA that takes in abandoned and abused exotic felines and gives them a new life. Their mission is two fold: To give the rescued animals the best habitat they can, and to educate the public about felines in captivity as well as the wild (which includes support of animal rights legislature and extinction awareness). It's a great cause all around with dedicated people at the helm where 100% of all funds raised goes solely to the animals' care and their cause! You can get more information on BRC's efforts and even read their "mews-letter" here: www.BigCatRescue.org
The focus of our event in their support is one of their rescues named: Amazing Grace. Gracie, as the BRC staff has nicknamed her, is a 20 year old female Ocelot that came into their care on 9/27/96. To see her heart-warming story you can purrrr-use her page here: http://bigcatrescue.org/amazing-grace/
In Gracie's name, the art team has come up with some Purrrr-tty amazing stuff!!
For sale NOW through Aug. 23rd, 2013 … we have for you a whole litter of feline themed items! New Homes, beautifully done Statues of an Ocelot spotted Meeroo, and an Ocelot Paint Set that really is the Cat's Meow! All of this is set up in the center of Roo Sim along with information boards about BRC and more!
We are dedicating 100% of ALL Funds Raised during this sale to go to the BCR for them to further their cause and for the care of these beautiful animals! Thank you to the wonderful art team that donated countless hours to make these products as purrrr-fect as the regal felines deserved. Also, a heart felt thank you to Mewroo who was the event coordinator between Meeroos and BCR to get the ball rolling. She'll also be hosting a few parties in honor of this event, so keep your eyes open for more notices with dates and times for those!!