It's beginning to look a lot like Christmas ! It's the time of year that many organizations begin campaigns to assist the less fortunate.
Come on down to the Breedable Fair and visit the Meeroo area. We have a wonderful surprise there for many of you that have been asking :) Hope to see you there !!
http://maps.secondlife.com/secondlife/Ponie%20Wonderland%20II/214/119/21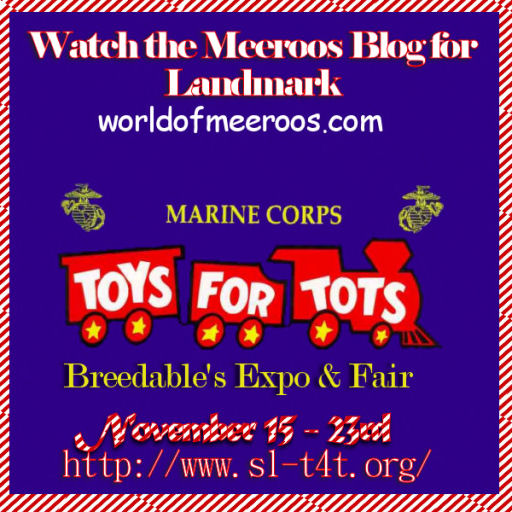 Toys for Tots is a program run by the United States Marine Corps Reserve which distributes toys to children whose parents cannot afford to buy them gifts for Christmas. The program was founded in 1947 by reservist Major Bill Hendricks. Toys for Tots began as a Los Angeles charitable effort in 1947. Major Bill Hendricks, USMCR, was inspired by his wife Diane when she tried to donate a homemade Raggedy Ann doll to a needy child but could find no organization to do so. At her suggestion, he gathered a group of local Marine reservists, including Lieutenant Colonel John Hampton, who coordinated and collected some 5,000 toys for local children that year from collection bins placed outside of Warner Bros. movie theaters. Their efforts were so successful that, in 1948, Toys for Tots was launched as a national campaign. Hendricks used his position as director of Public Relations for Warner Brothers Studio to enlist celebrity support, as well as have Walt Disney Studios design the red toy train logo.