Happy Birthday To Roo .. Happy Birthday To Roo ..
Happy Birthday, Dear Rooooooooooooooooos .. Happy birthday To Roo!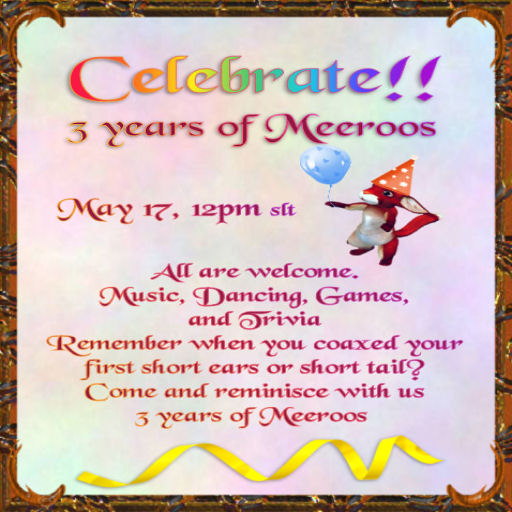 Our "twos" were anything BUT terrible, and now we're hitting our 3rd Birthday – It's a Wonderful World, indeed!! As always we want to thank YOU, our customers, for being there through every step as we've grown Meeroos into the amazing community that it's become! What better way to show our thanks, than to PARRR-TAYY!
Oh yeah, it's our Birthday .. it's our birthday.. it's our.. *coughs* Sorry. To celebrate we're going to Rock the Roo sim!! Starting at NOON (12pm) SLT on May 17th and we're going to Get down, gunna drop it like it's hot, gunna do the cabbage patch, and going to boogie oogie oggie all night long! Ok ok.. so we're a little excited and getting carried away, but can you blame us!?
3 years of this Wonderful World of Meeroos with You and we're going to have a bash you won't want to miss!! There'll be Music, Dancing, Games, Trivia, and PRIZES! What, us give gifts on our birthday? HECK YEAH, you know it cupcake! So be sure to put on your party pretties and nostalgia hats and get to Roo on May17, 2014 at 12pm SLT for the fun! Do you remember when you got your first Double Short nest? How about when Caledonian was the hot coat of the day?! Did you nearly faint the first time you saw a Notch ear? The good ol' days were great, and there's a lot more to come!
Come share in the memories and milestones have have a blast with us for our 3rd Birthday Bash!
*Disclaimer: The Meeroos team is not responsible if you actually rock your socks off .. and thusly loose them on the sim during this party. We all know the Roos like to hide things away. Perhaps you should come barefoot? Or just .. you know, have back up socks, just in case.